Soccer cleats buying guide
It's time for your new soccer cleats! How to choose the best according to your needs?
Although soccer cleats will not make you a better player it's the most basic accessory you'll need to give your best in the field. If the shoes you are wearing don't feel comfortable, you won't be able to train properly or improve your game. So what kind of soccer cleats will you choose?
We are presenting the following 7 points you need to take into consideration while choosing the soccer cleats that suits you.
What's the soccer field you are playing at?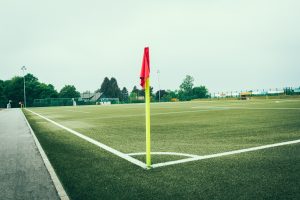 The surface of the soccer field you are training or playing will determine the type of soccer cleats you will choose. You have definitely noticed that professional soccer players  own several pairs of soccer cleats to choose according to the pitch (field) conditions in which they are playing on, while we've seen them, many times, coming back to the second half with a different pair of soccer cleats –usually after rain. 
What are the types of playing surfaces you'll run into soccer fields and which are the proper soccer cleats for each one of these surfaces? 
Turf
This is a type of artificial turf of short artificial grass that is laid on firm ground and provides a pretty hard surface where you can easily develop speed.   
Turf soccer cleats must be used for this kind of field; they're designed to enhance the grip on the ground and with their reinforced arch they are providing support, comfort and durability. Since the artificial turf is very hard, you are not supposed to use soccer cleats with studs because not only they'll get worn down quite fast but it can also lead to injuries. 
Firm Ground (FG)
This is the traditional field of natural, short grass that is the best playing surface. 
Firm ground soccer cleats with studs (FG) are the ones to use on fields of natural grass; they're designed especially for this kind of surfaces intending to provide comfort and enhanced traction, distributing the pressure evenly throughout the bottom rim of the shoe. Their studs are usually conical-shaped for explosive speed and appropriate ground penetration (not fully).
Artificial Ground (AG)
This is a surface of third generation and fourth generation types of artificial grass that is usually made up of an artificial soil base or rubber. Compared with the simple synthetic turf, it looks more alike to the natural grass and it is used in all weather conditions.
The best choice for artificial grass is the soccer cleats with studs of artificial turf (AG). These shoes are specifically designed, usually with less nylon to increase durability for the extra abrasion associated with synthetic grass. At the same time, they feature more numerous and densely concentrated studs. These shoes can also be used on firm ground (FG), though performance will depend on how dry and firm it is.
For more info about AG cleats, you can visit my post on the differences between AG and FG boots.
Soft Ground (SG)
This is a field of natural grass that's either wet or muddy, something that makes it very soft. We usually run into this during winter months due to rain or snowfall. 
The ideal option for this kind of surface would be the soft ground (SG) soleplates which are used mainly during winter time. With these soccer cleats acceleration is boosted and they offer the necessary traction. This type of soccer shoes usually has removable studs attached that are at 13/15mm in length, allowing the player to adjust the length depending on how slippery the surface is.
SG cleats are only meant to be used on soft ground and not on any other surface.
Hard Ground (HG)
This is a dry and hard surface that looks like a dried field of natural grass that has been worn away. 
In this case, choose the hard ground (HG) soleplates. These shoes have multiple conical studs that create an equal distribution of pressure on the soleplate to keep you balance, and provide optimum traction.
Indoor Soccer Field (IN)
Indoor soccer fields are quite hard and flat surfaces, while they're made of varnished wood, linseed oil or smooth, painted synthetic material.
If you're playing in such a field, choose indoor (IN) soccer shoes. This kind of shoes have flat soles or soles with small nobs to give you much better contact with the ground and smooth traction on indoor soccer fields. They're usually made of gum rubber, while they got a midsole for ultimate comfort and vibration absorption. It's best not to use them on street surfaces like concrete or metal, as they'll get worn away quite quickly. Also, you should avoid using indoor soccer shoes when playing on turf surfaces.
Hard surfaces/ street (ST)
The hard street surfaces are most commonly referred to fields found within the town –or in school yards– and are made of pedestrian surfaces, asphalt or concrete.
If you are playing on asphalt or concrete fields, choose street soccer cleats (ST). These soccer shoes have an outsole out made of hard gum rubber with a special pattern of nobs for better traction and extra durability. They're usually enhanced with a midsole for unltimate comfort and vibration absorption. 
Which Soccer Position Are You Playing?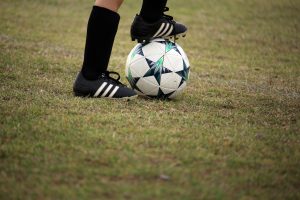 Of course, according to the position you're playing in the field your needs will differ. Therefore, the pair of soccer shoes you'll buy will have to fit to the style of play and your position.  For example, If you're a goalkeeper, you don't usually have to do a lot of running. Therefore, it is more important to get cleats that give you more stability.
Cleats for goalkeepers 
You need shoes that will provide excellent traction, the ability to move sideways rapidly, and strong surface on the upper part for powerful goal kicks.
Cleats for defenders
If you are a defender, you will be definitely looking for soccer cleats that provide extra protection and great ankle support that will enhance strong defense.  
Cleats for midfielders 
The ideal cleats for midfielders provide ultimate control over the ball, comfort and durability during their constant movements throughout the game.  Although speed is a nifty asset it really isn't that necessary if you're playing in the center of the pitch. A wise man once said 90% of the game is in our head. The other 10% is our physical abilities. Midfielders should aim for conical studs because they need to be able to turn and cut back a lot more.
You need to get lightweight cleats that will let you to change directions fast, to boost acceleration and have quick response. Being a winger you should look for cleats that can help you change directions quickly.
If you are an attacker, you'll need lightweight cleats that will provide clear goal kicks and direct acceleration for the moments when the net is wide open in front of you. Traditional strikers who are good in the air and possess adequate strength should consider a cleat that will enhance their power.
Construction Material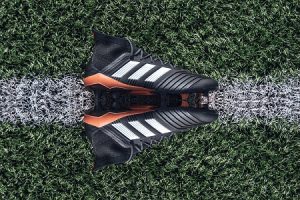 Every player has a different preference on the construction material of his cleats –mainly for the upper part. What do you need to know regarding the materials used for the soccer cleats in order to choose the one that fits you best? 
Leather
If what you are looking for is durable cleats that molds around your feet for a unique feeling of the ball then choose the leather soccer cleats. Especially if you have wide feet, leather is the suitable material for you.  
The best leather for your cleats would be the kangaroo leather, as it's the most durable and lightest leather used for soccer cleats. Due to the high cost, though, and the pressure the companies are having from the activists in protecting the kangaroos, you'll rarely find soccer cleats made of this type of leather. Many companies have switched from Kangaroo Leather to other materials.
You may find other types of natural leather, such as goat or cowhide leather. The cleats made by natural leather provide you a good sense of comfort so don't miss the opportunity to wear. They also offer some added benefits like they resist abrasion, are lightweight, and work quite well on firm natural surfaces.
Synthetic 
You may find soccer cleat made of synthetic material, designed to offer a completely different experience with the ball. Synthetic shoes are lighter, cheaper and easier to clean. Generally, though, they don't offer the same ball feeling –especially when it rains– they're not so comfortable to wear and it takes a long time until they get the shape of your feet. Last generation synthetic materials are quite thin, though, to improve the feel for the ball and offer a much better fit. Synthetic cleats do not stretch too much as the leather ones.
Knitted
This is a revolutionary material on cleats; convenient, soft and flexible that offers a completely different feeling on the ball. Adidas has already launched Primeknit and Nike has launched Flyknit, both knitted cleats that embrace the foot and have excellent fit.  
Mesh
This is a material adopted from running shoes to create more lighted and breathable soccer cleats. Cleats made with mesh are ultra light and thin but the cons are that moisture can get into your boot easily. And as you know once moisture hits your shoes they get heavier, keeping you from showcasing your best skills. However, many companies are trying to get past this problem and employing techniques of waterproofing in their shoes.
Vectran 
Vectran is one of the new trends on material used for making soccer cleats. This material is mainly used for running shoes, adopted for its small weight. We see this in Adidas as Skeletal Weave and in Nike as Flywire. In both cases, Vectran is made out of threads and in mainly used on the upper part of the shoe by itself or in combination with other materials. It provides enhanced foot support and gives the feeling of a "second leather".  
Lace Style?
Nowadays it seems that asymmetrical lacing is the standard and with good cause. It can be pretty annoying having your strike over the ball compromised because your laces are in the way. Try and find a cleat that offers has asymmetrical lacing so you can get a cleaner strike on the ball.
More information about all the parts  and the manufacture process of soccer cleats you can find here.
Soccer cleats with sock or not?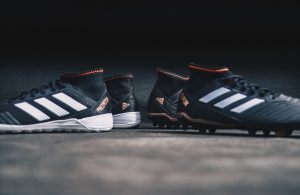 Many players are under the impression that if they choose soccer cleats with sock, they'll get better ankle support during the game. In reality, though, they offer no support neither affect the player's performance in any way. The only difference they have with the soccer cleats without sock is how they look and feel on your feet. 
Indoor Shoes, Cleat studs or Turf shoes? 
It depends on the field on which you train or play. 
Indoor shoes look quite like lightweight sneakers. They are not suitable for playing outdoors. They are usually designed for playing in a soccer recreational facility. They come with a flat yet rubber-type bottom to provide you with better traction and grip on indoor fields and courts.
If you are playing on synthetic turf or artificial grass or hard surfaces, then choose turf shoes. These types of shoes are also becoming popular these days, especially with people who want to play on harder outdoor surfaces – they are also suitable to play on artificial surf. These shoes usually have no studs on the bottom; instead, they come with various patterns that provide good grip on artificial surfaces.
If you are playing on a field of grass, choose cleat studs. 
Conical Studs vs. Bladed Studs
Not a lot of people consider this when choosing their next pair of cleats. It's fair to say that almost 80% of shoppers choose cleats off aesthetics alone. As long as it fits right? That's fine and fair, but the problem (which you should consider) is that you're sacrificing the attributes the cleats were designed to enhance. Conical studs are made for quick stops and pivots while bladed studs are for digging and gaining traction.
So the more technical style player would prefer a cleat that allows quick twists, turns and pivots. While speedster would amplify his/her explosions with bladed studs.
Molded vs. Detachable Cleats
Molded cleats come with a rubber sole that you cannot remove – sometimes, you can find molded cleats with hard plastic placed on the bottom of the shoe, which is basically an effort to provide you with better traction and control. These shoes are quite suitable for the amateur player. Most intermediate-level players opt for these shoes, not only because they are relatively inexpensive, but also because they let them play on almost all field types. They perform well in almost all weather conditions, which is another reason molded cleats are increasingly popular with unprofessional soccer players.
Detachable cleats come with studs on the bottom, which provide you with more control. However, it is important to mention that some manufacturers have now made longer cleats available with studs that you can screw on and off with utmost ease. Most of these cleats are usually made of hard plastic but come with metal tips.
The good thing about opting for these cleats is that you can make certain changes to the length of the studs and make them suitable for all types of fields and all types of weather conditions. These cleats are usually loved and liked by experienced players who know how to tailor their cleats considering the weather conditions and playing fields. So, if you are looking for cleats that would work perfectly on soggy fields or even on soft grass fields, you should opt for detachable cleats.
Choose the right size and shape
Making the right choice of a pair of cleats has also its secrets! Most of the time, the size of your athletic shoes is not the same as the size of your cleats. Therefore, it is best if you try them on before you buy them unless you get the same pair of cleats you had before or the store has a returning policy. 
How to choose the right size and shape:
Make sure to try them out on an afternoon when your foot would be more swollen than in the morning time, and you'll get a closer feel on how you will feel while being on the field.

Put on your soccer socks when you're trying, or any soccer protection gear you're wearing while playing, to get the exact feeling of how your soccer cleats should fit.

As soon as you wear the shoes, notice if your toes are moving comfortably inside the shoe or if you get pressure on your heel. If you feel something is bothering you, don't buy these shoes.

If you have a thumb space between your toes and the top of the boot, those shoes are too wide or big. If you have no space then they are too small or tight. Remember, the right distance to look for is about a baby finger width between your toe and the top of the cleat. 

If your feet are wide, or you have flat feet, make sure to choose cleats made of material that adjust to the shape of the feet, such as leather or knit. The same if you have different-sized feet.
You can read more in my article on how to properly size your soccer cleats.
What's your budget?
You may find cheap soccer cleats from 15 Euros but also expensive ones get up to 300 Euros. I have written an interesting article about the differences between expensive and cheap soccer cleats. There are 4 price levels on soccer cleats: 
Up to 40€
Perhaps, it would be best not to choose soccer shoes on this level of price as it's more likely to get pure quality shoes. If, however, you do find an expensive pair of soccer cleat in great sale, then the above rule does not apply.
40-80
In this price range, you will often find the economy versions of popular models of all companies that, while they keep the same look, they don't have the same features and performance like the expensive models of the same series. If, however, you are playing non-competition football or it's just to have fun with your friends, soccer shoes in this price range would be a good choice. 
80-150€
In this range, you will find plenty of great quality cleats. Most players buy these shoes, as performance and durability in this range often outperforms more expensive shoes.
Over 150€  
These are elite-level soccer cleats that look like the pairs worn by professional players and by the best players in the world. These are specifically designed for professional players who use several pairs a season. Even though these cleats are pro-level performance, quite often durability is compromised.
If your budget is tight you should never go for fake soccer cleats. Here is a guide to help you on how to detect fake soccer cleats. Also buying used soccer cleats might not be a great idea.
Final thoughts
Whether you're a parent, player, or just a cleat fanatic it's important to not just buy off aesthetics alone. That could be detrimental to your game. Even a Sunday league has its passionate moments. Constantly scale and adjust and find a cleat that works great for you and stick with it! That beats dropping $300 on a pair of cleats any day.
So, which soccer cleats are you going to choose? Whichever you choose, don't forget our above advice that will help you choose the pair that suits you best.