Soccer isn't always played on the same surface. That's why soccer cleat brands are manufacturing soleplates with a different stud pattern and construction depending on the pitch type that soccer is played. The different types of soccer cleats are:
Firm Ground Cleats (FG)
Soft Ground Cleats (SG)
Soft Ground Pro Cleats (SG-Pro)
Artificial Ground Cleats (AG)
Flexible Ground or Multi-Ground Cleats ( MG, FxG, FG/AG)
Turf Shoes (TF)
Indoor Shoes (IN)
The main purpose of each individual soleplate is to provide optimal traction on each surface. So you have to figure out what kind of pitch you're playing before choosing the right pair for you.
Below you will find more information about each type of stud configuration.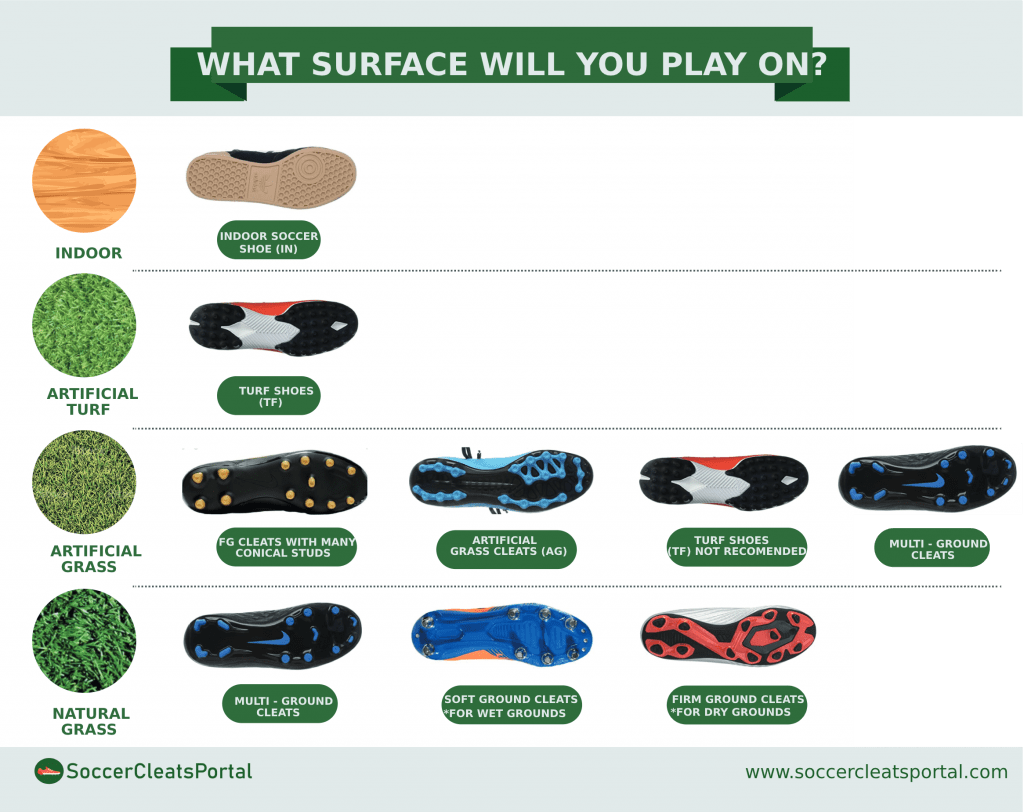 | TYPE | SURFACE | STUDS |
| --- | --- | --- |
| Firm Ground Cleats (FG) | Firm, dry, natural grass surfaces | Non-removable plastic studs that are either bladed or conical in shape. |
| Artificial Ground Cleats (AG). | Any version of artificial grass surface. | A larger number of shorter, conical and hollowed studs distributed across the soleplate. |
| Soft Ground Cleats (SG) | Soft, wet and muddy natural grass surfaces. | Fewer and longer removable metal studs. |
| Multi-ground Cleats | Both natural grass and artificial ground surfaces. | Shorter than firm ground cleat studs that are either bladed or conical in shape. |
| Soft Ground Pro (SG-Pro) | Soft, wet and muddy natural grass surfaces. | A combination of metal studs and molded blades. |
| Turf Shoes (TF) | Synthetic grass surfaces. | Many small spikes across the soleplate that are made of durable rubber. |
| Indoor Shoes (IN) | Hard court or ashalt. | Flat gum rubber outsoles with no real studs. |
Firm Ground Cleats (FG)

This is the most popular type and can also be referred to as the moulded cleat. This is generally known as the classic soccer cleat used by the majority of soccer players worldwide. Firm-ground cleats are designed to provide traction and stability on most natural grass soccer fields.
The FG boot is fully moulded with a series of non-removable plastic studs that are either bladed or conical in shape or a mix of those.
They provide less pressure compared to an SG soleplate mainly due to the lack of metal studs. 
The FG cleats are the most common as you can wear them on both FG and AG surfaces and also on some wet conditions as well. You should avoid, though, playing on AG pitches with FG cleats as it is not particularly safe for your knees and joints. Also, your shoes will deteriorate faster as the AG surface is very abrasive and the firm ground boots are not specifically designed for such hard use.
Soft Ground Cleats (SG)

Soft ground cleats are designed to give better traction on wet and muddy fields. They utilize longer metal studs which are removable by unscrewing them.
The metal studs are fewer and very much longer compared to FG cleats in order to give you more penetration when twisting and turning on wet pitches. In many cases, you will find only six of them (4 in the forefoot and 2 in the heel area). Some cleats will also have some long conical plastic studs.
The SG cleats are generally heavier than the other types mainly due to the way that the soleplate is constructed around those metal studs.
Some leagues in the United States don't allow metal studs so if you're gonna wear them make sure you check with your league first to see if they're permitted. You can refer to my article regarding the regulation of metal cleats in soccer for more info. Generally, SG cleats are more suitable for experienced soccer players who can customize the boots according to their needs.
You should avoid playing with SG cleats on other surfaces rather than the wet natural grass fields. This is mainly due to comfort and preventing potential injuries that can be caused to your knees. Also, artificial grass and turf pitches will be destroyed if they face frequent exposure to metal cleats.
Soft Ground Pro Cleats (SG-Pro)

This is a more sophisticated version of an SG soleplate introduced by Nike.
They have the classic aluminium screw-in studs that are found in the SG cleats but here you will also find some moulded blade plastic studs. As the original soft grounds cleats, these boots are used on soft and wet soccer fields and should be avoided on other surfaces.
These cleats are preferred a lot by the professionals (hence the name Pro) due to the higher traction and acceleration they provide. For recreational players, they are quite expensive though like the Nike Superfly 6 Elite Sg-Pro.
Artificial Ground Cleats (AG)

Those cleats are used, as the name suggests, in artificial grass surfaces.
Artificial ground cleats use a larger number of shorter studs distributed across the soleplate. This helps to reduce some of the pressure on your body and joints when playing on harder artificial terrains. Also, the shorter studs are not getting stuck to the pitch as much as normal firm ground cleats reducing the possibility of an injury and giving better traction when playing.
 AG boots are almost always going to be conical in order to give you good rotational movement. 
Finally, artificial ground cleats are generally more durable in order to withstand the extra pressure that they get from the harder AG surfaces. You will find some stronger plastic materials and you can also see some extra reinforced areas on the soleplate. There is extra taping that runs around the front of the boot that is used to prevent sole separation.
You can play with AG cleats in every type of field. In fact, if you are playing on more than one surfaces you can easily go with an AG boot as the other types of boots are not that suitable to the artificial grass as the AG boots are in the natural grass. But if you want that extra performance you should choose the proper stud pattern for the surface you are going to play.
Flexible Ground or Multi-Ground Cleats ( MG, FxG, FG/AG)

Due to the different types of soccer fields, soccer players are generally confused about which type of soccer cleats they should choose. Soccer cleat brands have combated this by blending firm ground and artificial turf outsoles into one. These boots are perfect for being used on both FG and AG surfaces. Adidas uses the acronym FxG, Nike calls them MG and Puma names them as FG/AG.
They generally use a combination of conical and bladed studs in order to provide the optimum traction on both firm ground and artificial ground surfaces. The studs are designed to distribute the pressure evenly across the soleplate.
While they are a cost-effective solution because they can equally be used on AG and FG pitches, you will not find any multi-ground shoe with metal studs. So they will not offer the optimum grip when playing on wet playing surfaces.
Nike Mercurial Vapor 13 Academy NJR Neymar Jr  and PUMA Men's Future 2.3 Netfit Fg/Ag are two popular soccer cleats that fall into that category.
Turf Shoes (TF)

Turf shoes are made to be used on indoor carpet-type turf surfaces. Turf pitch should not be confused with the artificial grass ground (AG) which is basically a long green plastic grass replica build and with rubber elements in it.
Turf shoes are completely flat on the bottom and have many small spikes that are made of durable rubber. So turf shoes are something completely different from AG shoes as the playing surface is different too.
There is not a specific rule that prohibits turf shoes from been used on any type of soccer field. But if you are serious about your game you should wear them only on hard turf terrains and in some cases on wooden indoor courts.
Indoor Shoes (IN)

Last but not least we have indoor soccer shoes or flat shoes. Now, these are used on indoor or outdoor court surfaces for games like futsal or street soccer.
The flat outsole is usually made of rubber and is built to provide grip. They're designed without studs and look like sneakers.
Again, they are only meant to be used on hard surfaces and not on other soccer fields.
More information about the differences between turf and indoor shoes can be found here.
Which are the differences between conical and bladed studs?
As we have seen, the molded studs that can be found on FG or AG cleats are either conical or bladed based on their shape.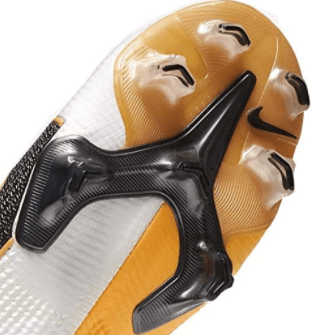 Conical studs are the round ones while bladed studs are a little bit different. They are mainly triangular in v-shape or in chevron style. 
But what are their differences?
The main reason for anybody to wear conical studs is for better manoeuvrability. They provide better rotation and you don't feel as you are locked in the pitch. If you put the conical studs in the ground they can easily turn without much effort. While in blades you need to spend a considerably large amount of force to actually turn.
On the other hand, blade studs provide better responsiveness in the ground. You don't get the same amount of stability as you would on a conical soleplate but you get the traction. While conical studs feel a bit more comfortable they are less responsive and a little bit more sloppy when you want to push off and accelerate.
If you do have bad knees or worried about injuries then conical stud configuration is the one for you. Bladed studs they hurt a little bit more to play. They put more pressure on your joints and your knees because of the sharp movements you make when you play in blades. If you do have good joints and you want the most high-level traction out there, then you want to definitely go for bladed studs.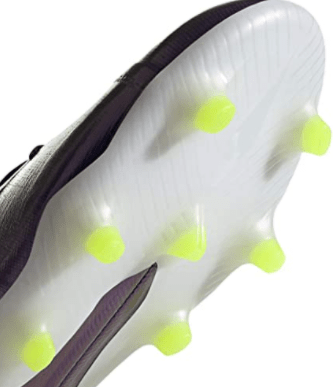 So the main factors that you want to consider when you are choosing between conical and bladed studs are the playing surface and your position in the field.
Final Thoughts
The soleplate and the stud configuration is the most important part of every soccer shoes as it determines our ability to play in different field types.
If you're wanting the best performance out of your footwear, extend the lifespan of your soccer shoe or to prevent some injuries you need to make sure you're choosing the right shoe for the right surface.
Hopefully, this article has helped to understand the different types of soccer cleats. If so feel free to share it.