Indoor soccer needs speed, agility and flexibility all of which you can achieve with the right shoes and the right training.
Indoor soccer has become popular in the USA and Canada over the years. Brands have gone out of their way to developing indoor soccer friendly shoes to improve performance, durability and power for those kinds of players.
There are multiple regulations that come with indoor soccer, and an indoor shoe is one of them. There are no outs or lines, making the game very fast on the foot which is why it is important to get the best shoe possible. Ensure that every aspect of the shoe is designed to enhance your style and performance while on the ground.
Here is a table comparison of the top indoor soccer cleats
| Shoe | Material | Sole | Special feature | Check price on Amazon |
| --- | --- | --- | --- | --- |
| | Leather | Rubber sole | EVA insole | |
| | Leather and Textile | Rubber sole | rubber toe enforcement | |
| | Synthetic leather and mesh upper | Rubber outsole | EVA sockliner for cushioning | |
| | 100% leather (split suede leather upper) | Rubber sole | Die-cut EVA insole | |
| | Textile/synthetic | Rubber sole | TPU skin application | |
The best indoor soccer shoes
Adidas Performance  Samba Classic  – Best overall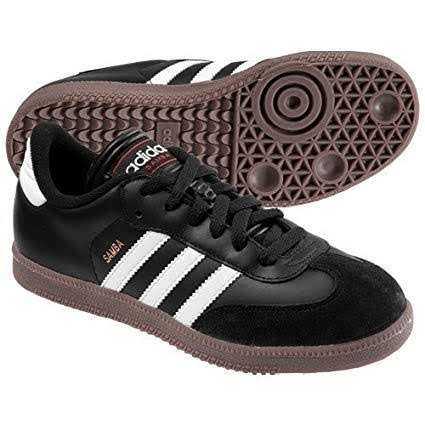 Adidas is one of the most famous sport shoe brands around the world. It is known for making some of the best shoes for different sporting activities. The popular Adidas performance Samba is a popular choice for many indoor soccer players.
The performance samba classic is created with a full-grain leather upper while the sole is made to be low profile. The suede leather upper covers the forefoot and offers an extra protection for the foot. It also allows for better breathability.
The outsole of the Adidas performance classic samba is made of gum rubber which allows for great traction and grip. The non-slip construction of the sole allows you to play and have stability on smooth surfaces like polished wood.
The non-marking outsoles have a construction that allows for flexibility, speed, and multidirectional movement, all of which you need while playing indoor soccer. If you are looking for a shoe that offers complete comfort in the court, you do not need any more searching.
The insoles are not removable and are made from a material called EVA (Ethylene Vinyl Acetate) to increase comfort. The Performance Samba offers you great arch support as well as stability and control.
The Performance Classic Samba is one of the best futsal shoes that fit all the qualifications indoor soccer players need. While they are gender-specific shoes, female athletes find them quite comfortable.
Pros
It can be used with confidence in all outside and indoor arenas.
Can use this as a casual wearing shoe as it looks like a normal Adidas shoe.
High-quality rubber sole.
It offers excellent grip and traction.
The structure of the shoe offers extra durability.
Very good price for the quality that you get.
Cons
The tongue may be too large for some people's feet.
It may take a while to break in.
A little bit narrow for those with wide feet.
Verdict
The Adidas Performance Samba Classic is a great shoe for indoor soccer. It gives the wearer some traction that allows maximum level performance. Its construction is meant to give you an increased level of ball control and traction while you are in court.
The PUMA men's Invicto Sala – Best for casual and indoor soccer wear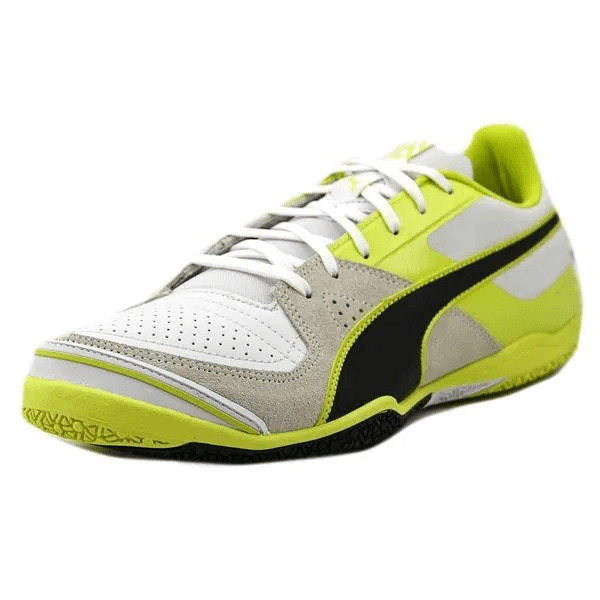 Puma is well-known around the world for its reputation to produce some of the best athletic products including shoes. The Puma Men's Invicto's are designed to be functional as well as stylish. The shoe is perfect for your indoor soccer activity as well as a casual day out.
The Invicto Sala is created from natural suede leather. It has a sock liner that is cushioned but does not affect the overall weight of the shoe. The shoe is made with mesh inserts that improve your foot's breathability. The feet are wrapped in layers of comfort and also remain cool even during activity. The sole construction gives you more control in the court.
The outsole, made of non-marking rubber, weighs 10.4 ounces, which is extremely lightweight. The material also allows flexibility which allows for an improved movement. It has traction that gives you a good grip even when you are walking on outdoor surfaces. The low-profile sole allows for excellent connection to the ground surface.
The shoes have rubber toes reinforcement or construction that allows for high-level protection. Want a high level of comfort and support? Go for the PUMA Invicto. The lace closure design of the shoe ensures you get a secure fit. This is one of the best indoor soccer shoes and is designed for fit, agility and speed. It comes in several colors that great for sporting and casual wear.
Pros
Made of high-quality leather.
Rubber sole is durable.
Can be used for indoor soccer and casual wear.
Great value indoor shoes.
Cons
Not suitable for all surfaces.
Verdict
The PUMA Invicto offers all the features you would like in a good indoor soccer shoe. it is one of the best futsal soccer shoes made for agility and speed. The low-profile sole s perfect for indoor soccer activities.
Nike Men's Davinho Indoor Soccer Cleat – Best for indoor soccer and other indoor games
Nike is another well-known brand that produces some of the best sports shoes in the world.  The Nike Men's Davinho Cleat is a great pair if you are looking for a simple, yet functional design. The sturdy Nike Men's Davinho has a sturdy outsole made of rubber and a plush interior. The inner liner and upper shoe are made with good quality breathable mesh to keep your feet dry, cool and odorless.
The upper is designed with a combination of mesh and leather which not only allows for breathability but also provides your feet with the support and flexibility you need during the sports activities. The shoes are super lightweight which makes it easier for you to practice and play for a longer time. It is made with a rubber outsole that features multidirectional lugs that give you ball control, traction and grip.
The collar of the Nike Men's Davinho cleats has extra padding for additional comfort and support. They allow you to lace up the shoes for a secure and comfortable fit without having to put any strain on them.  They are also equipped with an EVA sock liner that provides cushioning at the forefoot and the heel area.
Pros
The lace closure system allows for a perfect fit.
It has a sturdy construction.
They are comfortable and lightweight.
Very breathable.
Cons
May run small for people with wide feet
Verdict
Regardless of how long you take on the indoor soccer court, the Nike Men's Davinho cleats guarantee you minimal fatigue on your feet and an increase in weight. They are the perfect indoor soccer shoes for intermediates and gurus.
Adidas Performance Mundial – best for all indoor surfaces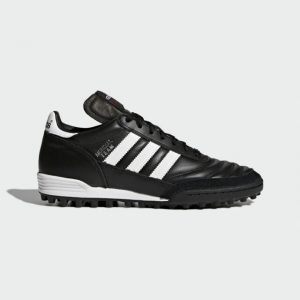 Adidas continues to impress us with almost every shoe design they come up with. The Adidas performance Mundial is a great futsal shoe by a top brand. The designs of the Mundial come together to give you great performance, comfort and style while you are on the arena.
The Adidas Mundial is made out of a split suede material which is unbelievably soft and very supportive. The material wraps around your feet for great fit and comfort. The shoes are very flexible on your feet which allows for a great motion range when you are moving around in the football arena.
The sole of the performance Mundial is made out of gum rubber which gives out good grip and traction on multiple surfaces. It is specifically designed to give extra grip for indoor soccer players.  The die-cut EVA sole is comfortable and very lightweight and surprisingly lightweight. your feet get all the support they need throughout.
The shoe has a synthetic lining that wicks away the water/seat. This keeps your shoes dry, cool and comfortable. The low-profile midsole of the Adidas Mundial allows for great feel and control.
   Pros
Ultra-durable construction.
Flexible on the foot.
Durable and lightweight.
The rubber outsole has a nice grip.
the sole is made out of non-marking gum rubber.
Cons
May feel slippery.
No-chafe heel counter offers additional support.
VERDICT
As an indoor player, you need all the comfort, support and stability to speed around the arena during the game. The Adidas performance Mundial is a top indoor soccer shoe and has been the range among indoor soccer athletes for a long time. It offers comfort, stability and performance.  While this shoe may be a version of an Adidas classic, it offers some of the best features a modern player could ask for.
The PUMA Men's365 Ignite – Best for speed on the arena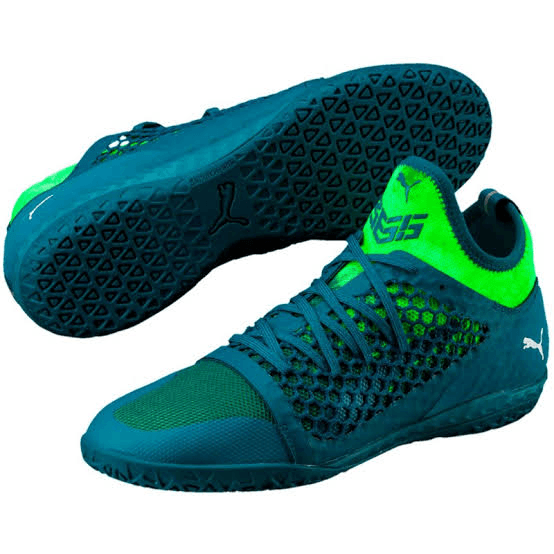 As mentioned, PUMA is one of the most iconic sports brands around the world. As usual, they never seem to disappoint when it comes to sports apparel. While the shoes they produce may not be all that perfect, they are known to be stylish, comfortable and durable which makes up for plenty to be desired.
The upper part of the 365 Ignite PUMA is constructed from a good quality mesh. The mesh allows for breathability while being very strong and durable at the same time. This shoe offers indoor soccer athletes some of the best support systems. There is skin in the high abrasion parts of the shoe, like the heel and toe to allow for the durability of the shoe.
The insole of the Puma 365 Ignite is designed to give you comfort. On both sides of the 365 Ignite are PUMA form strips to ensure your feet are locked in place and comfortable during play. The outsole of this shoe is made from gum rubber. The material not only has a high grip but is also non-marking. No need to worry about stability or support, the PUMA 365 is equipped with a heel counter for that.
The midsole of the shoe is made with IGNITE Foam for shock absorption. The energy-returning qualities of the foam give you an extra boost during the action. The lace closure design allows you to adjust the shoe for a perfect fit.
Pros
High grip non-marking outsole.
Has TPU skin to prevent fast wear around abrasion areas.
The materials used to construct this shoe make it lightweight.
Stability provided by the TPU shank.
Cons
The upper material might stretch out.
Verdict
The Puma 365 is a stylish, flexible, durable and provide a great feel for your shoe. The unmatched construction and great tractions offer you the ability to go faster when you are in the arena.
Best futsal shoes buying guide
Here is what to look for when purchasing indoor soccer shoes:
The material
The indoor soccer shoe should be constructed to give you the fit and stability you need during the game. Look for one with lockdown features to give you the security you need but make sure the material is lightweight and durable.
There are 4 main materials used to construct indoor shoes; the materials allow for durability, flexibility and breathability. Most uppers are made of soft leather, leather mesh or synthetic material. Pure leather is more expensive than synthetic so they are used in high end and expensive shoes.
The outsole, midsole and insole
A good outsole should offer you the traction you need while on the arena. Gum rubber is known to give the best grip on both indoor and outdoor surfaces. It also offers flexibility for fast direction change. The outsole should ideally have a flat surface which is harder than that of an outdoor shoe. Low cut outsoles are great because they impede your range of motion and make you faster.
Outdoor shoes have cleats that are designed to give out the most tractions on outdoor surfaces while indoor shoes do not. They have flat soles with non-marking nubs for traction and grip on indoor surfaces. Go for soles that are lightweight and flexible for the best feel and play. Stiff soles have great stability and traction but will not allow the movement needed in indoor soccer.
The fit
When purchasing any shoe, you have to consider the fit to reduce e possibility of injury, flexibility and maximum performance. A shoe that is too tight will restrict the movement on your feet which causes pain and reduces the ability to play at your level best. A shoe that is too loose can result in an injury like slipping, falling, tripping  (twisted ankle or more). Buy your shoe according to the length and width of your feet. Do not buy a shoe that has more than a ¼ an inch free space for your toes.
Final word
As an indoor soccer player, you will need to be fast, fit and accurate; all of which you can get with the right indoor soccer shoe. A good soccer shoe should offer you a wide range of motion, comfort and support. Low profile designs offer you optimal speed and agility on the court and allow you to have a full range movement in any direction. Remember, the indoor soccer court is not just one type; you will be playing on both smooth and hard surfaces. The shoes above will offer you the comfort and flexibility you need on any type of indoor surface.