Forwards in a football game are the goal scorers thus play nearest to the opposing team's goal. Forward players are also known as strikers who get the most attention because their role is meant to decide the fate of the team. They rarely abandon their position but rather prepare to score once the ball is redirected to their area.
The information below will, therefore, equip you with the best forward player skills to help you maneuver the forward position with ease. And most important is that you will be able to polish on the areas that you might be lacking. 
Tips on how to become a better soccer striker
Composure
The most important skill of a striker is to remain calm in front of the opposing goalkeeper. Most of the strongest attacking players have this skill in their armory.
An average player will feel nervous before finishing and in most cases this will prevent him from scoring more goals. Good players have confidence in their abilities and will rarely miss the opportunity to score when they are in front of the goalkeeper.
Great finishing skills
The primary job of a forward is to kick the ball into the net.
At times your team's survival will be dependent on how you finish the cross that is coming in, so this calls on your ability to use the various parts of your body and foot effectively. Remember that for you to be a good forward it's not just about kicking the ball hard and far, there is a combination of power and precision going on that you have to master.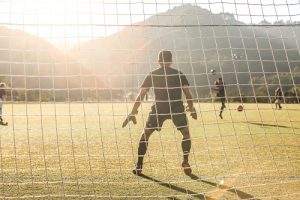 Technique
As a forward your main focus is to score goals. But except from that, you must be able to master other aspects of the game such as ball control, passing and dribbling.
In many cases will have the hard work to maintain possession for your team. Improving your first touch will be critical to achieving that.
Finally, using both feet will improve dramatically your chances of scoring more goals.
Improve on your physical skills 
Keeping off players from the ball requires strength and skill. Without them, the other team's strong defender will swiftly take the ball from you.
Being a strong player will also help you put high pressure on the opposing defenders, thus reducing their chances of being more dangerous for your team when they are trying to attack.
So to perfectly build on your shedding skill, you must first work on your strength and this involves following a strict diet, getting enough sleep and hitting the gym as often as you can. 
Need for speed
If you are a forward player then having the right speed will put pressure on your defenders. 
The game has changed a lot through recent years and speed has become a big part of it. In the past forward relied on their creativity and technique to score goals.
Nowadays, in order to become a better striker, you will have to build explosive power in your legs in order to be able to pass through the defenders and score more goals.
Cultivate on your heading skills 
In soccer, a heading is considered a skill that can help you score more goals.  
Mastering your aerial ability will also help you to create more chances for your teammates, especially if you are having the Target Man role.
Reading the game offensively
You become a very dangerous forward player once your opponents are unable to master your runs. And this is normally a problem with many forward players as they inadvertently make a lot of runs towards the goal and if you are playing with keen defenders then you will most likely be caught on an offside trap.
Also being able to switch positions with your fellow forwards will confuse the defenders and will help you create more chances for your team.
Even if you are not holding the ball the opponent defense must feel your presence. A static forward will become an easy job for the defenders so you will have to move all the time even without the ball to create chances. It is more likely that a cross will find your head or foot if you are moving constantly and following the tempo of the game.
By being engaged in the game the chances of the opposites making a mistake is more likely.
Only a small percentage of the chances are converting into goals. So by constantly creating more dangerous situations in the offense the more likely will be to score more goals.
Finally, in order to become a more competent forward you will need a more suitable pair of cleats for that position. I have written an article about my recommendations for the best soccer cleats for forwards.
Conclusion 
In order to become a successful forward, you will have to work hard both physically and mentally.
Every fan at the end of the game will only remember those who have scored the crucial goals and given the victory to their team. On the other hand, glory comes with great responsibilities as strikers will be heavily criticized if they fail to score goals for their teams.
Improve your work ethic, stay committed and dedicated to your goals and in the end, you will be rewarded for your efforts.