','' ); } ?>
The most important gear for every soccer player is the right pair of soccer cleats. Many will spend hundreds of dollars to purchase the best shoe for their needs. So, it is crucial to take care of them to get the most from your purchase. With that in mind, here are some tips that will help you achieve that.
Soccer cleats usually last 6-12 months (or 1 or 2 soccer seasons) if you are actively using them. You can prolong your soccer cleats life by following some of these tips below.
Use cleats with a suitable fit in your foot.
Tie them correctly.
Only use on the correct surface.
Do not walk on hard surfaces.
Clean and dry them after each use.
Take care of the leather regularly.
Store away from sunlight or extreme weather conditions.
Below you will find a more detailed explanation of the tips mentioned above.
How to make your soccer cleats last longer?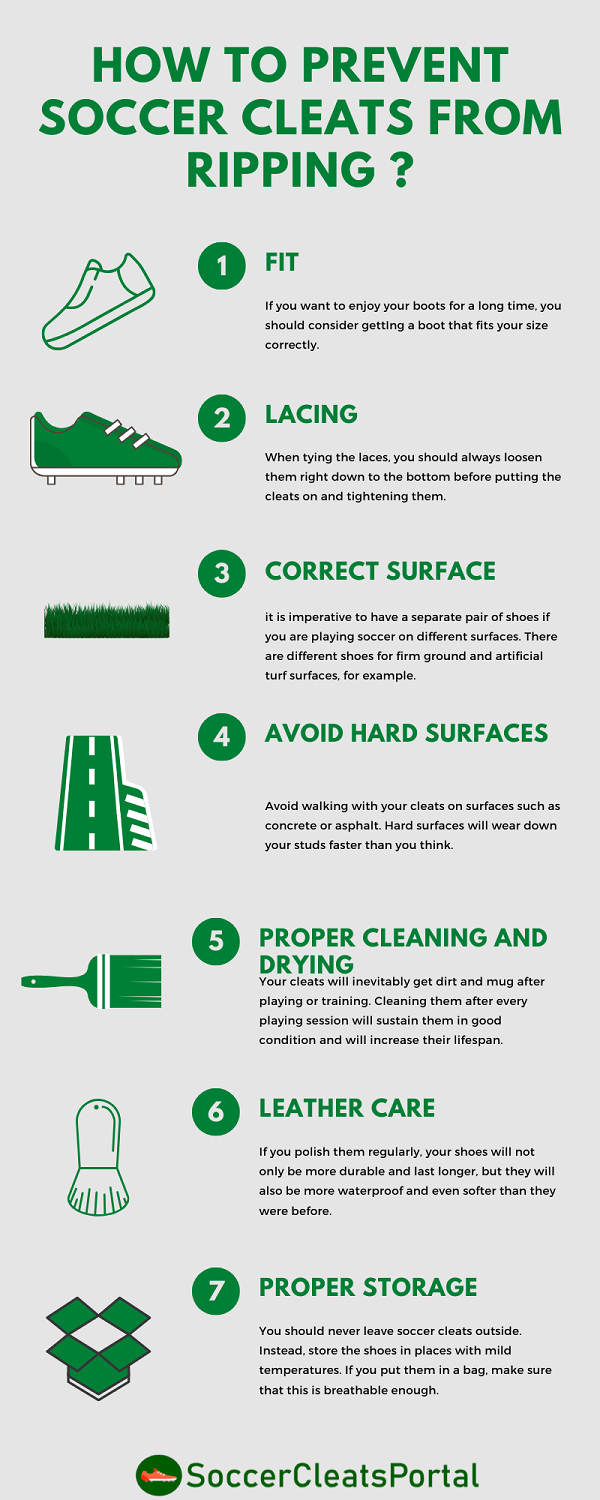 If you want to enjoy your boots for a long time, you should consider getting a boot that fits your size correctly. Some shoes are working better for wide feet. If you have wide feet and you are trying to wear narrow shoes, the upper will start to separate from the soleplate. 
Besides that, cleats that are too spacious or short can cause blisters in your foot.
So if you are a kid that your foot is growing and you are thinking of buying a larger shoe or if you just want to buy a specific shoe or design that you like, always consider the fit first before buying.
You can read more in my article on how to properly size your soccer cleats.
When you are about to put your soccer cleats on, you should always undo the laces all the way up. Then when getting your foot on the shoe, it should fit nice and snug, and the laces should be properly tied.
When you are done playing, don't just pull your shoe off. Instead, take them off by loosening the laces.
Note that not all soccer cleats have laces, so if you have a laceless pair, you can skip that part.
Soccer cleats have a distinct stud configuration for every possible surface that soccer is played. There are different shoes for firm ground and artificial turf surfaces, for example.
Firm ground shoes will get worn down by all the extra abrasion that they get from the studs rubbing against the artificial grass. Furthermore, using soccer cleats on synthetic grass pitches might give you a pretty nasty injury (i.e., sprained ankle).
So it is imperative to have a separate pair of shoes if you are playing soccer on different surfaces.
For more information about this, you can read my article about the different types of soccer cleats.
You should avoid walking with your cleats on concrete or asphalt surfaces while heading to or leaving the soccer field. This can cause your cleats to wear down more quickly.
Better buy a pair of soccer slides for walking before and after a training session.
Cleats are only meant to be used on specific field conditions, and they are going to deteriorate faster if they are handled otherwise.
Proper cleaning and drying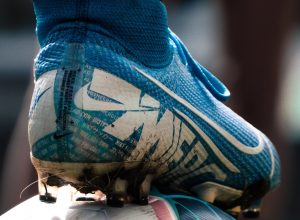 Your cleats will inevitably get dirt and mug after playing or training. Cleaning them after every playing session will sustain them in good condition and will increase their lifespan.
You should clean your shoes by using only cold water and brushing them with a scrub, brush, or toothbrush. Make sure that you don't use too much force when you rub as you do not want to damage the material. Boot Buddy is a handy shoe cleaner that you can use.
Avoid using hot water as this will ruin the leather of the upper part. Use only water to clean your shoes and avoid any cleaning chemicals or putting them in a washing machine. This process may last longer, but it will undoubtedly help your shoes maintain their structure for a more extended period.
The most important part isn't actually the cleaning itself but the drying. If you keep your soccer cleats wet (after cleaning or after playing in wet conditions), the moisture is going to sit inside the boots and severely weaken the materials making them more vulnerable to breaking.
After cleaning, use a towel to wipe them. Except for the outside, you should also drain the inside. It is also useful to stuff the inside with paper towels, tissues, or a towel to absorb the extra moisture. Be careful not to expose them to excessive heat (radiator or hairdryer, for example) as this will suck out all the moisture making it stiff and again more likely to crack. Let them dry naturally at room temperature. More info you can find in my article on how to dry soccer cleats.
If the laces, insol
es, or studs are detachable, it is better to clean them separately using the techniques mentioned above.
For studs that are not removable, you can use a cleat cleaner to remove the mud either while playing or after finishing your activities. Another handy gadget for cleaning the soleplate is the bootclaw mud scraper.
It doesn't matter if your shoes are made of leather, synthetic leather or, other material. Proper cleaning and maintenance are crucial for your shoe longevity.  Except from that decent cleaning will help you get rid of the nasty smells that are developing on your shoes.
Those who have leather cleats need to pay more attention because these shoes are made of natural materials and require special treatment. Like any other natural product, it does wear down over time. Also, leather tends to stretch over time.
Once in a while, it is advisable to apply leather food or leather conditioner to your upper after finishing the cleaning process mentioned above.
If you polish them regularly, your shoes will not only be more durable and last longer, but they will also be more waterproof and even softer than they were before.
You can use products like Reusch Chelsea Leather, Sof Sole Mink Oil, Fiebings Mink Oil, Leather Honey, Chambers Leather Balsam, and many others.
You should never leave soccer cleats outside. Instead, store the shoes in places with mild temperatures. If you put them in a bag, make sure that this is breathable enough.
Except for cracking, if the shoe gets exposed to high amounts of heat, the soleplate will separate from the upper as the glue that holds them will eventually melt.
On the other hand, exposure to extensive cold will harden the leather, making it unwearable over time.
It is vital to store your shoes in the right conditions, especially in the off-season period, where no soccer action is taking place.
How do you prevent sole separation on soccer cleats?
No matter how cheap or expensive a boot is, it is very ordinary to experience an upper and sole separation.
The main reasons for that happening are:
Wearing the incorrect size or width. The sole may separate near the ball of the foot if the shoe is too tight.
Exposure to high heat. That will make the glue that holds those parts melt, making them fall apart eventually.
Incorrect drying. If the shoes are left wet, the extra moisture would ruin the upper material resulting in detachment from the soleplate.
So if you have in your mind the above, you have more chances to avert the sole separation. If after all the inevitable happens you have the option to repair the boot using a shoe repair adhesive like in the video below.
Final thoughts
At the end of the day, soccer cleats are made for running, tackling, and kicking a ball. They are facing intense usage and extreme weather conditions. Some are more durable than others, but they are going to get ripped eventually and you will need to replace them. All you can do is prolong that period for a little longer by putting some extra effort into taking care of them.
Here are some clear signs that it's time to replace your soccer cleats.
If you are a recreational player and you cannot afford to pay for cleats regularly or have extra pair of shoes, by following the above tips, you can maintain your shoes in good condition for an extended period.
I hope that you have found this article helpful and informative. If you have any extra tips, feel free to share them in the comment section right down below.