','' ); } ?>
Every player needs various pieces of equipment to practice and compete safely and efficiently while in the field. The most essential and must-have pieces of gear, however, are soccer cleats. Soccer cleats provide you with traction, support, and function. These shoes, which can have a significant impact on your performance can perform their function correctly because the parts of soccer cleats are put together to form a bio-dynamically sound design. High levels of research have been made from huge athletic brands such as Adidas, Nike etc. in order to make the perfect shoe.
Below you will find how the soccer cleats are manufactured and what are the main parts of a soccer cleat.
Parts of soccer cleats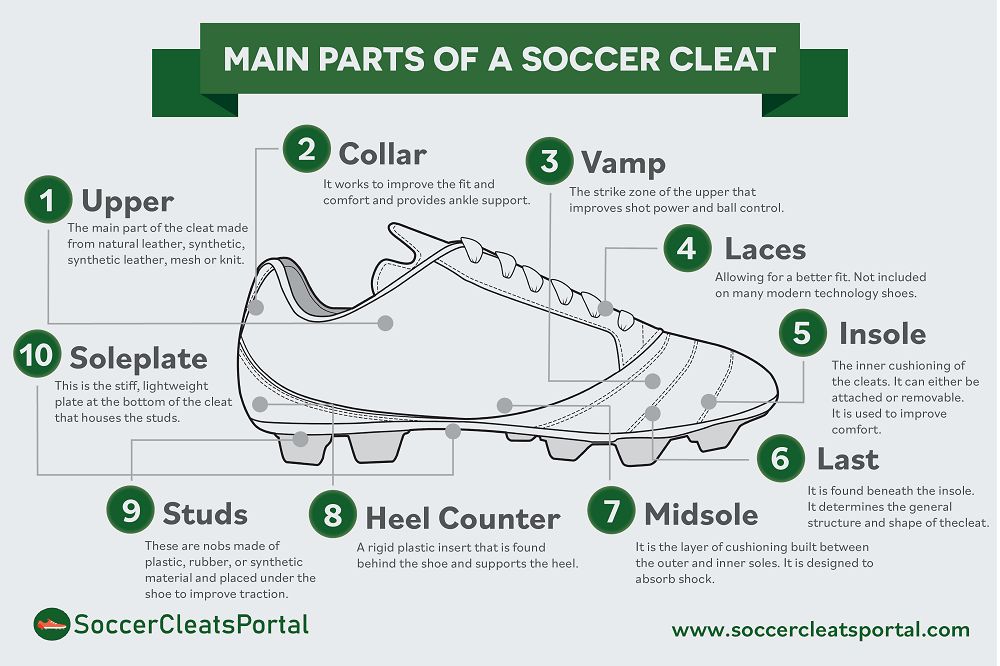 Below are listed the 8 essential parts of soccer cleats, as well as the materials used to make them.  You can find a more detailed anatomy about all the parts that make a soccer boot here.
The upper, as the name suggests, is the uppermost part of soccer cleats. It affects both ball control and traction and is usually made using different shoe materials.
Although all these materials produce lightweight, comfortable, and thin shoes, players have different preferences. The following is an overview of the different materials uppers are made of:
– Natural leather
There are different types of natural leather. They are kangaroo leather, calfskin leather, and full-grain leather.
Because of the uniform fibers on kangaroo leather, it is light, thin, and strong. It also molds quickly to the feet and are great for players with wide feet. Consequently, kangaroo leather is the most preferred by players and is very expensive. On the downside, unlike other natural leathers, kangaroo leather is not waterproof or as durable. Also leather cleats tend to stretch more. The calfskin leather is more durable and soft that the kangaroo leather but is heavier. Finally, full-grain leather, made of cattle, is tougher and more durable and water-resistant than the two others but also a lot heavier than the other types of natural leather.
– Synthetic Material
Synthetic materials are lighter than natural leather. They are also water-resistant, easy to clean, and affordable. Nevertheless, synthetic materials are thinner, less stretchy, and less comfortable than leather. They have low durability levels and take longer to break-in.
– Synthetic leather
Synthetic leather is designed to look and feel like leather. Cleats made from this material are breathable, easy to clean, and waterproof. However, synthetic leather doesn't offer as much contact feel like natural leather. Kanga-Lite form Nike is an example of such material.
– Knit
Knitted uppers are the most recent addition to the cleats market. Cleats made from knit texture are highly waterproof, and lightweight. They provide enhanced traction and ball control. The only downside to knit cleats is that they are expensive. Adidas PrimeKnit and  Nike's Flyknit are two examples of this.
– Mesh
Mesh is one of the new trends in the material used for making soccer cleats. This material is mainly used for running shoes, adopted for its small weight. Although they are very light and breathable shoes they do not provide good water protection.
– Vectran
Vectran is a super strong fabricated liquid crystal polymer fiber.  We see this in Adidas as SkeletalWeave and in Nike as Flywire.
The main pros and cons of the basic upper material are listed below.
Pros

Cons

Natural leather

- Molds easily to the feet
- Offers support
- Thick and protective
- Excellent ball touch
- Can stretch to accommodate wide feet
- More durable

- Heavier
- Absorbs more water
- Requires specialized cleaning and maintenance


Synthetic

- Less expensive
- Easy to clean
- Lighter
- Water resistant
- Dries out easily

- Less strechy for wide feet
- Longer break-in time
- Not as durable as leather
- Less comfortable

Synthetic leather

- Waterproof
- Very lightweight
- Less break-in time than synthetic


-They don't offer the same ball feeling as natural leather cleats

Knit

- Extra lightweight and water-resistant
- Convenient with great fit
- Excellent feel with the ball

- Expensine

Mesh

- Extremely lightweight
- Convenient with great fit
- Hight breathable

- Not very water-resistant
A well-structured collar is usually padded. It works to improve the fit and comfort of soccer cleats. Cleats have collars that are low, mid (just below the ankle), and high cut (cover the ankle).

Leading brands use different varieties of knitted fabric for their collars.
More information about mid-cut and high-cut collars and the protection they offer to the ankle, you can find in my article about the best soccer cleats with ankle support.
The vamp is the upper strike zone at the forepart of the shoe that comes in contact with the ball. Although most cleats have stitched vamps, others have incorporated technologies that significantly improve your shot power, ball control, and feel.
Soccer cleats use traditional laces allowing for a better fit. However, many modern technology shoes do not have any lacing system. Many brands have adopted ghost laces (covered laces) to maximize the striking area of the shoe.
The insole is the inner cushioning of the cleats. It is also known as sockliner.
It can either be attached to the shoe or removable. Even though most cleats come with a basic insole, you have the option of purchasing specialized insoles. Here is a list with the best insoles for soccer cleats.
The insoles minimize stress on your feet by improving comfort, minimizing stud pressure, and reducing foot-to-boot slip..
The last is found beneath the insole. This part determines the general structure and shape of the cleat.
One of the most flexible parts of soccer cleats is the midsole. It is the layer of cushioning built between the outer and inner soles. The midsole is designed to absorb shock.
The heel counter is a rigid plastic insert that is bonded to the upper and outsole plate. It is found behind the shoe and upholds the structural integrity of the back of the heel. Most counters come with comfortable padding on the inside to curb friction, blistering, and irritation. If you are a vigorous trainer, consider getting cleats with higher heel counters. These usually provide better rearfoot control. A quality counter remains sturdy and does not bend even after years of use.
Soleplate and studs are at the bottom of soccer cleats. They are probably the most critical parts of soccer cleats. Indoor soccer shoes do not have any studs on their bottom.
The soleplate is the stiff, lightweight plate at the bottom of the cleat that houses the studs. They are usually made of rubber or synthetic material depending on the playing surface.
Studs are nobs made of metal, plastic, rubber, or synthetic material and placed under the shoe to improve traction. Studs are either detachable or fixed. The different types of cleat studs include:
Bladed – They create traction when you push from the side of your foot. That way they offer more safety and comfort, especially when playing on firm grounds. There are several configurations such as triangular or chevron style blades, each providing pivot points and stability for explosive movements.
Conical – These rounded shapes improve stability and rotational traction during movement. These cleats are better used in wet pitches.
Mixed – These configurations are used to take advantage of the benefits that both conical and bladed studs have to offer.
For more information you can visit my article about the different types of soccer cleats.
Although these are the main parts of soccer cleats, there are many others that affects the structure and functionality of these shoes. You should ask about such parts and the materials used to make them before you buy a pair of cleats. Finally, make sure that whatever you buy fits your playing style.
Manufacture of soccer cleats
Cutting and the materials
The stripes for the patterns are first marked on the shoe and the material, in order to act as an accurate outline during the cutting process. Through the use of metal cookie cutters, the material is cut out, as well as the lining foams.
Stitching guides are also screen printed on the material to act as a guide later on. Afterwards, the material goes through skiving, which makes the edges thinner and creates neater seams.
Stitching and printing
Any decorative detail is screen-printed before stitching begins, and this is done on individual material pieces. After this is done, the material then goes through stitching to create the shoe by using the stitching lines as a guideline. The inside seam of the shoe is then ponded flat by a hammer to prevent it from bulging and rubbing on the foot.
Assembly
The lacing will then be responsible for the shape of the cleats. This is through lacing them up and then positioning a tuck board inside the bottom of the soccer cleat. The shoe goes through machines that wrap the upper material edges, and the outsole and lacing are attached together, glued using cement and primer, and then cured using UV radiation to activate the glue.
Finally, the cleats are then attached, quality control is done to check for any mistakes, and they are packaged for sale.