PUMA's soccer cleats have been prefered from soccer players for generations. Worn by legends like Pele and Maradona and backed by teams like Manchester City and AC Milan, PUMA's soccer shoes have always dominated the soccer cleat market and continue their legacy today. From the legendary line of PUMA Kings worn by the greatest players of all time to the ne
wly engineered Future and One silos, PUMA cleats are always one of the first choices for soccer players.
One question that comes to mouth to many potential PUMA buyers is do Puma soccer cleats run small or big? Well, Puma cleats will tend to match your shoe size perfectly. However, they tend to be tighter through the midfoot. When it comes to width PUMA cleats are not considered too wide or too narrow but have an average fit.
Here you can find sizing tables for the PUMA soccer cleats for men, women and kids.
Puma soccer cleats size vs. other brands
Unfortunately, when it comes to soccer cleats there is not a universal size for all brands. Every manufacturer has a unique measurement system.
Puma soccer cleats won't run small or big in most cases if you measure your feet correctly. However, beware of tight fighting through the midfoot.
Adidas soccer cleats don't have this characteristic. The cleats tend to run wide, making them more suitable for individuals with wider feet. In regards to length, the cleats are true to size.
Puma and Adidas shoes run bigger than Nike, in general. Also, Nike soccer cleats tend to be more narrow than the other two major brands.
If you have a wide foot, New Balance and Adidas soccer cleats may be the best for you. Other soccer cleat brands tend to have a more tight design.
Of course, these are very general observations and every pair has its own specific fit, so be sure to try them before purchase.
Understanding how soccer cleats fit
To get soccer cleats that fit just right, you must consider many factors and tips. The most notable are discussed below:
1. Your standard shoe size isn't your ideal soccer cleat size.
Since soccer cleats are supposed to have a tight fit to give you a great touch and feel of the ball, they should be a size smaller than your standard shoe size. For instance, if you wear size 7 running shoes, you may require size 6.5 soccer cleats to get a perfect fit.
2. Pay attention to the width.
Most soccer cleats do not come in different widths, but certain models are wider than others.
3. Check the collar.
The collar is essentially what wraps around your ankle giving it the additional support and binding it to the rest of the boot. There are three types of collars, low-cut, mid-cut and high-cut collars. Collars should fit perfectly to provide the ankle support you may seek.
4. Lacing system
Laces play an important role in the overall fitting of the shoe. There are shoes with laces, without laces or even shoes with laces that are not visible (ghost laces). In general, cleats will lace will offer a more adaptive fit.
5. Cleat material matters.
If you want cleats that can stretch, choose leather cleats. However, they should have an initial tight fight so that they don't become loose over time. The type of leather also matters. Calfskin stretches less compared to Kangaroo leather. If you don't want a soccer cleat that stretches, choose synthetic cleats.
6. Consider the soccer cleat brand.
As mentioned above, fitting also varies from one brand to the other. You need to know your Adidas size, you need to know your Nike size and you need to know your Puma size.
You can read more in my article on how to properly size your soccer cleats. Also if you have different sized feet you can find some tips to overcome this in my article about what to do if your one foot is bigger than the other.
Disadvantages of buying soccer cleats with extra length
Getting a shoe that does not fit well will have an adverse impact on your game or, even worse, can cause a serious injury. The main problems that you will encounter are the following:
1.  Your feet slide inside the shoes.
That is the most common issue with unfitting shoes. Your foot will slip inside the shoe causing blisters or more serious damage.
I have written a more detailed article on how to prevent blisters from appearing when wearing soccer cleats.
2.  The heel can slide out of the shoe.
Running or kicking the ball is almost impossible with excessive cleats. You will always have the danger of missing your shoe while playing if it doesn't fit well.
3.  Cleats hitting the surface.
By wearing excessive cleats you will lose the feeling of the shoe. That can result in your cleats colliding with the ground when trying to kick the ball.
4. Cleats will get ripped eventually.
If you want to enjoy your boots for a long time, you should consider getting a boot that fits your size correctly. Cleats tend to downgrade if they don't fit snugly to your feet.
In order to avoid the above problems, I have written a quick fitting guide to help you.
Soccer cleats fitting guide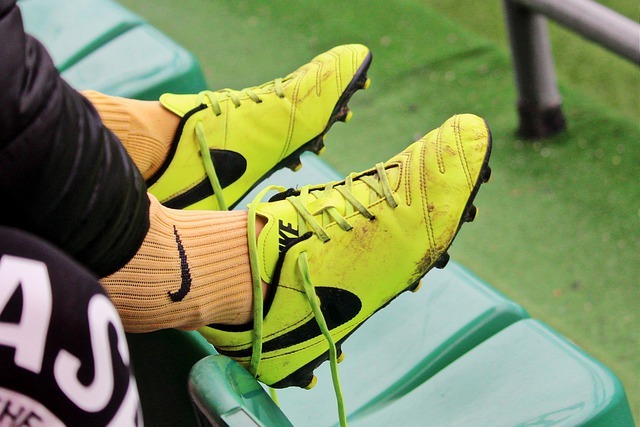 Step 1
First of all, you need to determine the surface where you will be playing soccer. There are different types of shoes for firm ground surfaces, artificial turf, hard ground, indoor and other playing fields. That should be able to narrow your possible selection to considerably fewer options.
Step 2
Measure the length of your foot. As a general rule, soccer cleats run tighter than other shoes. Soccer shoes are meant to fit snugly on the foot to provide the support and stability needed.
Step on top of a measuring tape to take your measurement. The best practice here is to do that at the end of the day and always by wearing socks. After you do the measurement, you may find that the size of your shoe corresponds to a smaller shoe size than you're used to. This shouldn't be worrying to you, as this is the way soccer cleats work.
Step 3
Measure the width of your foot at the widest point (below the toes) by stepping on a tape measure. This will determine whether your foot is considered a 2E (wide), a 3E (extra wide) or a 4E (super-wide) foot.
You can also approximately calculate the width by using a length-width comparison chart.
Step 4
Try on several pairs of shoes. Also wear shoes from different brands.
Push your finger on the gap between the toe and the end of the shoe. You should have about 1/4 to 1/2 inch of spare room. Only after that go for the next step.

Step 5
Walk around in the shoes for a few minutes. If you are starting the feel any pressure then move on to the next pair.
After following these steps, you will have a great chance of picking the correct shoe for you.
After purchasing you can enhance the overall fit by breaking-in you new pair of soccer shoes.
How to overcome the lengthy cleats issue
If after all you have bought cleats that do not fit well and you do not have the option of returning them, there are some tricks that you can use to fix that issue at a certain level.
Ankle braces are a great tool used by many athletes to support their ankle.
In our case, you can use them to minimize the space between your toe and the shoe end.
2. Use thick socks
This is another useful measure you can take to minimize your gap in the front of your lengthy shoe.
These tricks are only inadequate measures to help you resolve at some point that problem. If you are a recreational player you can use them for some playing sessions but if you are serious about your game your priority would be to find the perfect boot for your needs.
Closing thoughts
Finding the perfect soccer cleat is a very tricky process for all the reasons explained above. Especially nowadays where most of the shopping is happening online and in many cases, you don't even get a chance to try on the boots before getting them in your hand.
All in all, the importance of determining individual fit can't be overlooked since multiple variables, including personal preferences, determine what perfect sizing is.
The conclusion here is that honestly, it's a lot of trial and error until you find what suits your needs the best.